Popcorn Invoices have been to the Kernel of Record for your unit.
Payments are due by December 1st or earlier.
Please make checks payable to the Bucks County Council.
Prize orders must be placed online by November 22nd. Click here to go to the prize page.
Scholarship forms are due in to the Council office by December 31st.
Did your scouts fill out an entire order form? Send a copy of the form to the antoinette.layton@scouting.org and the scout will receive a $10 gift card from the Scout Shop. For each additioanl new sheet they will earn another card.
NOTE: Since the Online Sales website and the Popcorn System are not interconnected, the council will review your unit's online sales and manually add in any sales to your overall sale to give you the proper credit for your commission. Commissions will not be assigned until after the orders are submitted online.
Council Kernel Adrienne Rubin welcomes you to the 2014 Popcorn Sale!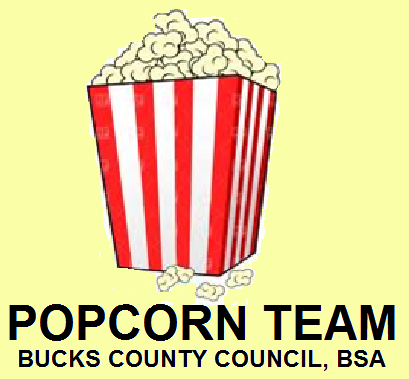 Popcorn enables your unit to do the things you want without having to do numerous fund raisers. By selling popcorn in the fall, it can support the entire year of scouting for your unit. Not only does it help raise funds for your unit but there are plenty of rewards for your scouts as well.
Dens and patrols can earn prizes, gift cards, scholarship money, and for all scouts who sell $600 or more, they can get their very own Sky Stomp Rockets set which consists of a foot launcher, 2 light-up night rockets, and 3 daytime rockets!

We have assembled a tasty line-up of products at different prices that customers will enjoy as they support scouting by purchasing popcorn. And remember- over 70% of the purchases go back to our local scouting programs!
Do you have any general popcorn questions? If so, you are welcome to contact Antoinette Layton, staff advisor John Erskine or to call the Scout Service Center at 215-348-7205 to get your answers.
Click here for a list of the District Kernels.
Listed below are links to forms, power points, and other helpful tools.
TAKE ORDER PICKUP TIMES Information will be posted here the first week of November. Units will be sent an email with information about their assigned pickup time. Please be on time as we have to vacate our distribution sites by noon.
WE NEED HELP SORTING! We will be sorting popcorn on Friday, November 14th at our three distribution locations. If you come help sort popcorn on Friday you can take your order home that day after the orders are done.
· Playwicki and Pennsbury units will go to Associated Production Services warehouse (100 Louise DR, Ivyland PA). The warehouse doors are on the back side of the building. Contact Tyler Yankey at tyler.yankey@scouting if you are interested in helping. THIS IS A DIFFERENT LOCATION THAN THE SEPTEMBER SHOW AND SELL PICKUP SITE.
:LeLenape and Tophendel units will go to the Scout Service center in Doylestown (1 Scout Way, Doylestown PA) for their popcorn.
Hunterdon units will go to General Pallet (97 River Rd, Flemington, NJ). They will be sorting from 2pm to 4pm on Friday. Contact District Kernel Steve Waddell at j2coolcomchar@gmail.com if you are interested in helping
Mercer units will go to Bohren's Moving (3 Applegate Drive, Robbbinsville NJ). Contact District Kernel Adrienne Rubin at adrienne.rubin@gmail.com to help volunteer. THIS IS A DIFFERENT LOCATION THAN THE SEPTEMBER SHOW AND SELL PICKUP SITE.
2014 Scout Order & Prize Form PDF- if your scout lost their form or need an additional one, here is a PDF of the order form and prize catalog
2014 Product Line- 15 types of popcorn goodness!
2014 Leaders guide- everything you need to know about this year's popcorn sale.
Commission Structure- see how your unit can earn up to a 40% commission!
Scout Incentives- see some of the additional rewards your scouts can earn for selling popcorn. Don't forget the College Scholarship program either!
$600 Sellers- All Scouts who sell $600 or more will receive their own Stomp Rocket!
New Kernel Power Point- if you are a new kernel this presentation will help you learn about this year's sale.
Returning Kernel Power Point- if you a returning "kernel" this is a slimmed down version of the June orientation power point.
Show & Sell Suggested Quantities- Not sure how much popcorn to order? Use this chart.
Wawa Show and Sell Unit Assignments- UPDATED AUGUST 26TH. Current listing of units who have received a store the for the October 18th Show & Sell Weekend.
Wawa Show and Sell Rules - for units who received a Wawa store to have a Show & Sell at, here are some rules you need to be aware of ahead of time.
District Orientations- by having someone attend one of these kickoffs in August and September, your unit can earn a 2% commission!
Elian's Tips- sales tips from one of Bucks County Council's top selling scouts to help your scouts improve their sales.
Other Useful Links
Trail's End - training videos, sales planners, images, contacting Trails End
Online Sales- manage your online sales here
Prize Ordering- order all your scout's prizes here
Prize Order Form- use this sheet to help tabulate your prize orders first
Learn how to fund your unit ideal year of scout program by just selling popcorn! Click here