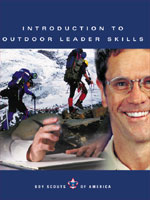 Introduction to Outdoor Leader Skills
Introduction to Outdoor Leader Skills (IOLS) is the final course required for Scoutmaster and Assistant Scoutmasters of Boy Scout troops and Crew Advisors Assistant Crew Advisors of Venturing Crews with an outdoor focus to earn their "Trained" status. This course is an outdoor training experience designed to teach the skills it takes to be a First Class Scout. This training is usually done on a Friday night through Saturday night and is put on by the Council and District training teams.
IOLS should be taken after Youth Protection Training and Position Specific Training.
While no longer required, This is Scouting is still a very useful training program and the Washington Crossing Council Training Committee STONGLY recommends that all leader review this course. New leaders and parents can review the course to get a better understanding of the 'whole' BSA picture.
The WCC, via its six districts, runs IOLS courses throughout the year, typically in the spring and fall. To see a list of these trainings- as well as other courses; click here.