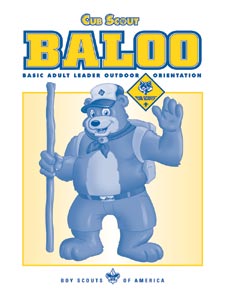 Basic Adult Leader Outdoor Orientation (BALOO)
What is BALOO?
BALOO is designed for any Cub leader who camps or is in charge of Pack camping. BALOO training is required for at least one registered Scout leader in every Pack. This energetic one-day training session covers everything a Pack needs to know about planning and conducting a Pack overnighter. BALOO introduces Cub Scout leaders to the newly expanded opportunities of pack overnight camping. Whether you're an experienced camper or an outdoor novice--- BALOO has something to offer you to help you plan a safe, age-appropriate camping experience for the Tiger Cubs, Cub Scouts and Webelos Scouts, and their family members, in your pack!

This training is more than just camping—it includes ideas for outdoor activities, games and ceremonies; information on selecting and using camping equipment; how to run a campfire program; and Cub Scout cooking demonstrations! In short, everything you need to know to make your pack overnighter a fun, successful event!

Why do I need to meet BALOO?
BSA has made a number of changes to the camping policy for Tigers, Cub Scouts and Webelos Scouts. Besides participating in day camp and resident camp, packs may now organize overnight campouts for boys and their families. An Adult leader must attend BALOO training in order for the Pack to be issued a tour permit. (Cub Scout/Webelos Scout Outdoor Program Guidelines, 510-631)