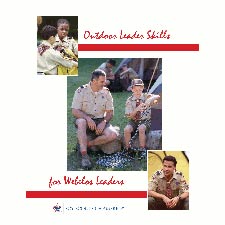 Outdoor Leader Skills for Webelos Leaders (OLSWL)
Outdoor Leader Skills for Webelos Leaders presents the 'how to' in planning and conducting successful Webelos Den overnight campouts and other Webelos outdoor activities. It reinforces - but does not duplicate - what you learned in This is Scouting, Cub Scout Leader Position Specific Training (Webelos Leader breakout session) and BALOO. The course provides a "hands-on" learning experience in camping and outdoor skills as done by Webelos Dens. This training provides ideas on how to present the outdoor related Webelos Activity Badges, including Outdoorsman, Geologist, Forester, Naturalist, and Readyman. Participanrs are provided with training and guided practice sessions topics such as camping gear selection, campsite selection, den cooking and sanitation, woods tools, fire building and safety.

Please note that this training is encouraged but not required to take Webelos camping. The course is one of the requirements for the Webelos leadership training knot.
Check the council training calendar for other OLSWL opportunities that may be posted.