Linking your MyScouting Account
If you have taken any online trainings, it is important to link your MyScouting account to Washington Crossing Council's registration records. The council's registration records will only be automaticaly updated if your MyScouting account is linked to your membership ID number.
To make sure your account is linked to your registraion, click on "My Profile" from the left menu. Look for the entry towards the bottom of the page noting your Membership ID and association with Washington Crossing Council. If all of this information is correct, there is nothing more to do. If you do not see this entry, choose Washington Crossing Council from the drop-down list, enter you Membership ID and click "Add."
Obtaining Your Membership ID Number
There are several ways to obtain your Membership ID number:
The easiest is to look on your membership card, provided to unit leaders anually when your unit recharters: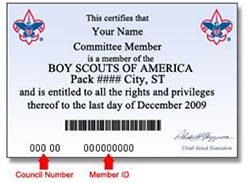 If this card is not available to you, contact your unit leader or committee chairperson, who should have a roster that includes your Membership ID number.
Contact the Council Service Center at (215) 348-7205 during regular business hours, and request your Membership ID number. You can still take online trainings without your Membership ID number and update your MyScouting profile later when the number has been obtained.
Once you have obtained this number, you can use it to create an account at MyScouting or update your profile to connect your MyScouting account to the council's registration system.