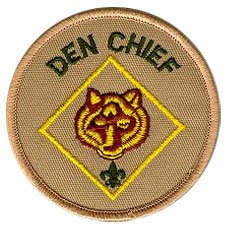 Washington Crossing Council, BSA is Presenting
Den Chief Training
Are you a First Class Scout?
Are you looking for a Leadership Position in your Troop?
Do you want to help your Troop grow?
Do you want to help Cub Scouts?
Then you need to become a Den Chief!
Courses are offered throughout the year. They are hosted by the six districts, local Scout units, and typically at the council's University of Scouting in March.
---
Online Den Chief Training
Den Chief Training has traditionally been offered at the University of Scouting every year. Though this class will continue to be offered (and attendance is strongly encouraged) there is now an online training for Den Chiefs.
Boy Scouts wishing to become den chiefs will take this online course as part of their training to become a den chief. The module identifies den chief responsibilities and tasks, and describes the den chief's relationship to the adult den leaders and how that relates to the den chief's activities with the den. After finishing the online training, den chief candidates print their certificate of completion and undergo further training with their adult den leaders. Estimated time to complete: 45 minutes.
Please email AnnaMarie Pepper when you have completed the training to have your record updated.